------------------------------------------------
Other Opportunities to own a Kleary Field bred Horse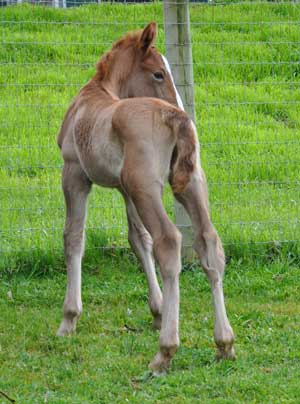 Q: May I custom order a horse from Kleary Field?

A: Yes, you may. We are fortunate to have several RID mares with key bloodlines available for custom breeding your next performance Irish Sport Horse or purebred Irish Draught.
Moorpark Girl's is one of a handful of complete outcross mares in all the world. Her unique and valuable rare bloodlines make her a match for almost any ID stallion. Moorpark Girl scored 24 of 25 points for type at her 2001 inspection in Ireland. Moorpark Girl has produced many foals including four purebred fillies.
Kleary's Grace is a 15.3 hand traditional mare with Clover Hill bloodlines and lovely movement. Grace is a fine choice for either a Irish Sport Horse (1/2 bred) or a purebred Irish Draught. Grace has produced both a partbred filly and purebred colt.
Kleary's Diamond is a 16.3 bay mare with King of Diamonds bloodlines and a natural bascule when jumping. KD produced a lovely filly by Aberjack in 2013.
We are proud of our RID mare herd and the opportunities they present for breeding -- particularly for half-bred Irish Sport Horses. Some breeders say the mare makes up 60% of the foal and the stallion 40%. While genetically that's not true, the impact of a calm and sane mare on the newborn foal until weaning may well be the 10% those old breeders are talking about.
Contact us for more information on a custom breeding. Custom breedings are available at our discretion and will require a deposit.
Q: I think I must have one of your Kleary Field foals/weanlings/yearlings of young horses! Is it possible to purchase now and take delivery at a later date?
A: Yes, you may.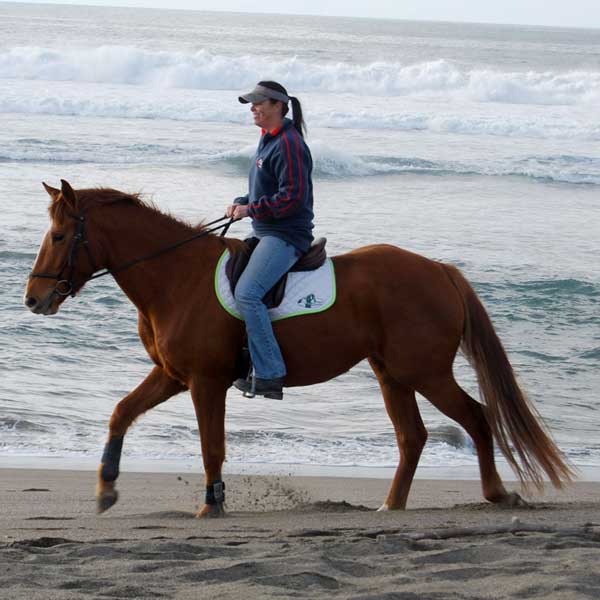 If you have seen the statistics on the number of weanlings thought to have ulcers, you may rightly be concerned about caring for young horses. Feeling safe and comfortable and responding positively to humans are two big priorities for all horses at Kleary Field, but especially the young ones. We handle each horse daily and individually to determine care, challenges and health needs.
We are fortunate to have large sloping pastures, age appropriate friends, bright stalls and paddocks, and a lovely arena with quality footing to keep the young horses safe and stimulated. Sure, we choose our breedings carefully with a focus on producing a performance horse with a appropriate temperament, but we also sincerely believe proper upbringing plays a vital role in a horse's future success.
Arrangements can be made for us to keep your Kleary Field-bred young horse by the month or year at a reasonable cost. We are happy to recommend and/or oversee starting for your young horse as well, until you are ready to take her or him home.
-----------------------------------------------
Why Buy from Kleary Field
At Kleary Field, our Irish Sport Horses are purpose bred for jumping performance. Our Irish Draughts are bred to the highest breed standard. All our equines are bred with an eye for producing quality stock as well as useful and fun family friends. Each horse at Kleary Field is handled and loved daily. We expect performance, but we demand respect on the halter, in the pasture and when the time is right, in training under saddle.
If you are looking for a quality horse, something sane and trainable, for your next mount, we invite you to visit our ranch and meet our family.
Known Pedigree

All horses bred by Kleary Field are registered with the Irish Draught Horse Society of North America as foals. They are DNA tested and verified.

Full History

Ask us anything. We can provide the full history of Kleary Field bred horses and upon request, we can provide vet histories as well.

Confidence

The horses of Kleary Field are brave and confident. They are handled and trained daily. And you can be confident of what you are buying.

Professional
Training

When the time is right, each Kleary Field horse is trained by a professional in a suitable skill. The majority of our horses are broken to ride and taught to jump and/or Event. We do not take shortcuts and we are not in a hurry to over-produce our horses. In each case the professionally trained horse is also ridden, jumped and handled by an amateur We start every horse as if it will be ours forever.

Baby Pictures!

Kleary Field horses come with a CD filled with foal photos and videos, upon request. Watch your new best friend from day 1 and relive the excitement of growing up at Kleary Field.
Not for Sale, but fun to keep up with!

Kleary's M&M - total outcross Irish Draught by Mountain Pearl out of Moorpark Girl. Foaled 2015

See KD's Page- RID Mare
King of Diamond line mare
Produced a lovely 2013 foal by Aberjack and now
Karen won't sell her.