Kleary's Sweet Heart
Registered Irish Draught Sport Horse mare
Kleary's Sweet Heart
Irish Draught Sport Horse Mare
Foaled: June 2008

Kleary's Sweet Heart is a Registered Irish Draught Sport Horse with the Irish Draught Society of North America IDHS(NA). She is approved for breeding.
------------------------------------------------
Recent Photos & Activities
Kleary's Sweet Heart is in search of the ultimate partner for years of fun, trail rides, jumping and dressage! Applicant must be available almost daily for treats and attention (would prefer to live at home!). Riding can be daily or just a couple of days a week. Would prefer some variations in work, with plenty of trail rides and hacking out. Sweet Heart likes a good bareback day! In exchange, Sweet Heart will offer jumping to 3', dressage on the bit, a warm welcome when she sees you, and calm and confident companionship in almost every situation.


Sweet Heart is a 2008 Registered Irish Draught Sport Horse (RIDSH) liver chestnut mare standing 16.1 hands tall. She is by The King of Hearts (RID) out of Sally Sells Shells (Thoroughbred). She is conformationally correct and approved for breeding by the Irish Draught Horse Society. Sweet Heart has a solid record at Novice Eventing and is competitive at the level. Message us or email info@klearyfield.com for more information or to schedule a meet-and-greet.

------------------------------------------------
Early Photos & Activities
Sweet Heart leads the way (yikes!) around the arena in a mad dash just for fun!
Sweet Heart at 4 months old. She was thinking about going liver chestnut.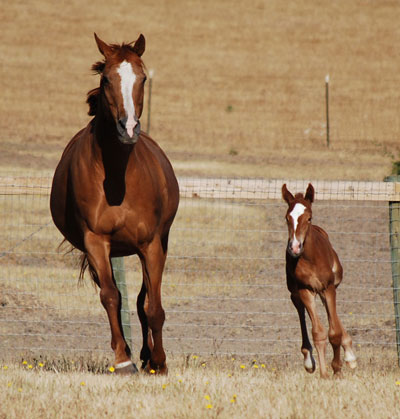 Lulu and Sweet Heart take a first romp around the pasture less than 24 hours after the filly's birth.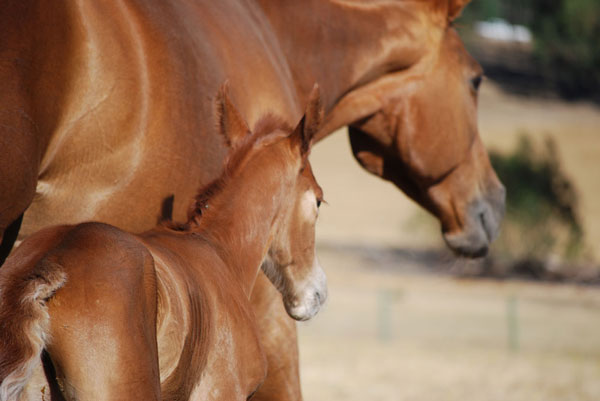 Taking a breather, Lulu and Sweet Heart from June 19, 2008
At 3 days old, Sweet Heart already had gathered quite a fan club!
Day 6 for Sweet Heart. She is brave and balanced.
Sweet Heart In Film

Films are great with DSL or cable. They take a long time to load with dial up.
© 2013 Kleary Field. All rights reserved.