Kleary Field's Breeding News

Chestnut Event Mare Half-sisters
IDSH Kleary's Lucky Star (Stella), RIDH Kleary's Sweet Heart and RIDSH Kleary's Mighty Pip at Woodside Horse Park in October 2015. The three mares, all out of Sally Sells Shells, were on site for the Woodside Event.
------------------------------------------------
Keeping up with Kleary Field's Sold Horses!

Kleary Field Out and About


Kleary's Fox Kennedy (pictured) was Purebred Youngstock Champion. Kleary's Rushmoor took Reserve Champion.

Kleary Field's home-bred Irish Draughts and sport horses excelled at the 17th annual IDHSNA Society Breed Show and Inspection held in Carson City, Nevada August 2013. Pictured above, Kleary's Rosie the Riveting won Partbred Foal Champion.


Prograny of Dam Champion - Moorpark Girl
Representing Moorpark Girl are from left, 2011 RID gelding Kleary's Rushmoor and 2006 RID mare Kleary's Diamond. Also pictured is grandaughter Kleary's Rosie the Riveting.

Kleary's Sweet Heart Champion Partbred Irish Hunter,
Level 1 Jumper Champion

Kleary's Grace Training Level Dressage Champion

Kleary's Foolish Heart (Flo): Supreme Partbred Performance Champion Overall Dressage Champion; Overall Versatility Champion;Overall Jumper Reserve Champion Level 2 Jumper Champion; Level 3 Jumper Champion.

We are super pleased with our newest Registered Irish Draught (RID), Kleary's Rushmoor (Beatle). Just 2 years old at inspection, Beatle was approved by the visiting Horse Sport Ireland judges. Beatle is the fourth approved purebred out of our Moorpark Girl rare bloodline dam.
Why Buy Irish from Kleary Field? So many reasons:
------------------------------------------------
Around Kleary Field
Kleary Field preditor - Derby the kitten

Kleary Field preditor - Derby the kitten with prey, Kennedy. Wake up Kennedy!

Karen and Moorpark Girl (RID) are learning to drag and learning to drive!


2003 gelding Boxster (right) and mini-me (2004 gelding JP Young) at left.
Then and Now
Arena Play Foals in 2008 and Pregnant Mares in 2006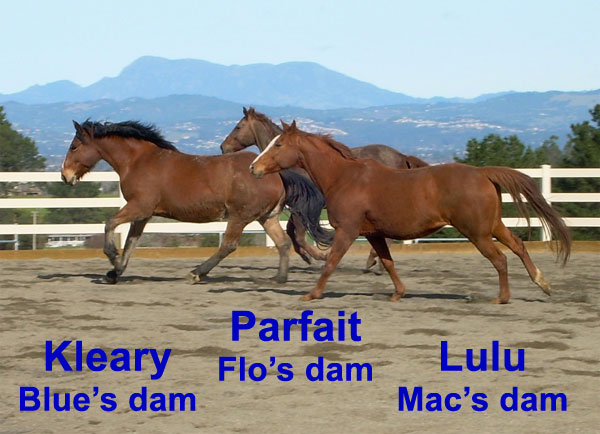 © 2013 Kleary Field. All rights reserved.