A: As a breed, the Irish Draught was established at the turn of the 20th century from the agricultural stock of Irish farmers in the countryside. Make no mistake; the Irish Draught is not a heavy horse of the Shire or Clydesdale tradition, but rather a light draft breed with more in common with Warmbloods. The small farms and light soil of Ireland required a smaller horse. Standing 15.1 to 16.3 hands, the ID breed standard for character and type says:
The Irish Draught Horse is an active, short-shinned, powerful horse with substance and quality. It is proud of bearing, deep of girth and strong of back and quarters. Standing over a lot of ground, it has an exceptionally strong and sound constitution. It has an intelligent and gentle nature and is noted for its docility and sense.
Traditionally, the Irish Draught is versatile and athletic with a wonderful temperament. The farmers required a horse who was sound and sane--a dependable horse for farming, who was also charged with taking the family to church on Sundays. They needed good movement both for taking product to market at a decent clip and for fox hunting.
For it was Hunt days that set the Irish Draught a part. The Irish Draught was bred to foxhunt all day and jump anything in its path. Even today, Ireland is the destination for bold riders looking for a big foxhunting adventure. Travel to Ireland for vacation and you will find yourself on an Irish Draught or Draught cross who stops at nothing. (Which reminds us, by all means travel to Ireland for vacation, but buy your Irish Draught or Irish Sport Horse from a US breeder and take the money you didn't pay for import costs and go visit Ireland again.)
-----------------------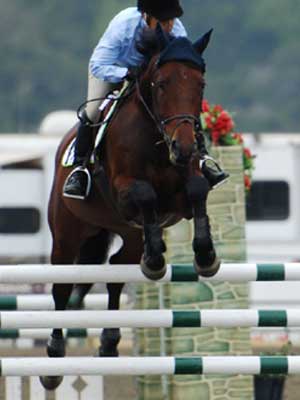 Q: What is an Irish Sport Horse or Irish Draught Sport Horse?
A: The Irish Sport Horse (in the USA sometimes referred to as the Irish Draught Sport Horse) is a Warmblood known for outstanding jumping ability, athleticism, movement and most importantly, wonderful temperament. With a Studbook maintained in Ireland, the Irish Sport Horse is traditionally a cross of the Irish Draught with the thoroughbred in some proportion. This cross was previously called an Irish Hunter. Irish Sport Horses are perhaps most popular in the equestrian sport of Eventing, and The Irish Sport Horse Studbook has led the Events rankings of the World Breeding Federation for Sport Horses Eventing for 13 consecutive years.
Undeniably, the Irish Sport Horse has excelled in Eventing--think 2008 Horse of the Year, McKinlaigh who is half Irish Draught or David O'Connor's gold metal mount the ISH Custom Made. Irish Sport Horses are also strong in the world of showjumping with past stars like Special Envoy (ridden by both Rodrigo Pessoa & Nelson Pessoa) and up-and-comers like Rich Feller's mount Flexible (or Flexible's sire the Irish Sport Horse Crusing). Each of these horses mentioned has at least 1/4 Irish Draught blood.
At Kleary Field we breed the Irish Sport Horse particularly for the local market. We think the sport horse is a great animal for a wide range of riders and abilities, and, as far as we have seen, wonderful horses to be around in every way. We breed the first cross, or halfbred as it is called, considered the strongest result with hybrid vigor. We also bred the 1/4 Irish Draught (with 3/4 Thoroughbred or a combination of thoroughbred and Warmblood). The Irish Sport Horse is a wonderful horse for mature riders as the athleticism of the thoroughbred is tempered with the sanity and good sense of the Irish Draught. Trainers tell is that temperament equals trainability. Riders tell us that temperament equals a pleasure to ride and safe, too.
-----------------------
Q: What is an Irish Sport Horse as compared to an Irish Draught Sport Horse?
A: The Irish Draught Sport Horse (IDSH) is always an Irish Sport Horse (ISH) but an ISH is not always a IDSH. In North America we make a distinction between the two in order to emphasize the role of the Irish Draught breeding in the sport horses.
In Ireland as well as Europe, no classification of IDSH is maintained. So in Europe, an ISH could be and IDSH or any horse with Irish blood, including Connemara, Irish Thoroughbred, Irish Cob, etc. as well as any horse whose sire is approved and listed in the Irish stud book. It should be noted however, that traditionally in Ireland the Irish Hunter was a cross between an Irish thoroughbred and Irish Draught. In North America the term ISH is often used conversationally, as it is in Europe, to define a horse with any Irish blood.
For the purposes of registration of horses with the Irish Draught Horse Society of North America, as a Registered Irish Draught Sport Horse (RIDSH) a horse must have a quantity of Irish Draught blood and must show characteristics for Irish Draught "Type" as well as minimum requirements for conformation . RIDHS animals are inspected by judges from Ireland and to be registered need to have identifiable ID characteristics (type). Only North America registers and inspects an RIDSH. The registration of an IDSH is primarily a benefit for breeding animals and says nothing about the confirmation or suitability of a horse for performance.
-----------------------
Q: What's special about Kleary Field?
A: Kleary Field breeds a small number of foals each year. Foals are handled daily and treated as individuals, but grow up with other horses in large pastures and age appropriate groups. They are, in short, spoiled. Thus far we have seen no ill effects on their jumping ability despite this spoiling. Look around our website, schedule a visit, tell your friends and neighbors, bookmark this page--you never know when you might be in the market for a perfect horse and friend.
Q: Why should I buy my horse from Kleary Field?
A: At Kleary Field, our Irish Sport Horses are purpose bred for jumping performance. Our Irish Draughts are bred to the highest breed standard. All our equines are bred with an eye for producing quality stock as well as useful and fun family friends. Each horse at Kleary Field is handled and loved daily. We expect performance, but we demand respect on the halter, in the pasture and when the time is right, in training under saddle.
If you are looking for a quality horse, something sane and trainable, for your next mount, we invite you to visit our ranch and meet our family.
More Reasons to Buy from Kleary Field
| | |
| --- | --- |
| Known Pedigree | All horses bred by Kleary Field are registered with the Irish Draught Horse Society of North America as foals. They are DNA tested and verified. |
| Full History | Ask us anything. We can provide the full history of Kleary Field bred horses and upon request, we can provide vet histories as well. |
| Confidence | The horses of Kleary Field are brave and confident. They are handled and trained daily. And you can be confident of what you are buying. |
| Baby Pictures! | Kleary Field horses come with a CD filled with foal photos and videos, upon request. Watch your new best friend from day 1 and relive the excitement of growing up at Kleary Field. |
-----------------------
Q: I'm not an Olympian or high level competitor. Can I buy a horse from Kleary Field?
Q: I'm a trail rider looking for a horse friend. Would a horse from Kleary Field be appropriate?
A: YES!! At Kleary Field all our equines are bred to be useful and fun family friends. Our breeding choices are made with an eye for performance jumping and producing quality breeding stock, but we don't think the jump suffers from the attention our horses receive.
While we intend to breed horses for the highest competitive level, we are breeders, not trainers, nor millionaires. The amount of money and time necessary to reach the upper echelon of equine sports is prohibitive for most horse owners. We will be happy to have bred a horse who reaches the highest level; but we will be equally happy to sell a young horse to an owner committed to providing a quality home and useful life.
-----------------------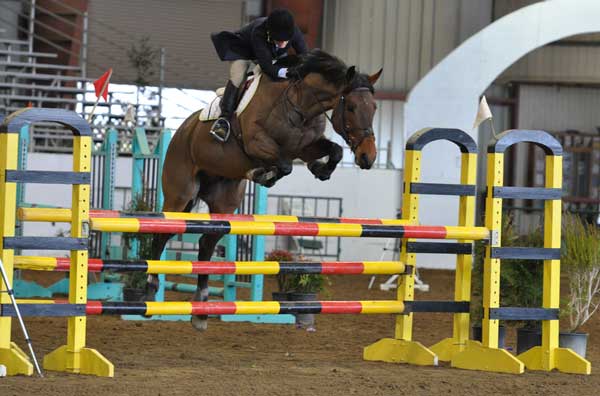 Q: I'm an Eventer. Why should I buy a young horse from Kleary Field?
A: Buy a young horse because it is affordable. A $10,000 2 year old may be a $50,000 4 year old. When you grow with your horse you can create a bond as you learn together.
Arrangements can be made for us to keep your Kleary Field-bred young horse by the month or year at a reasonable cost. We are happy to recommend and/or oversee starting for your young horse as well, until you are ready to take her or him home.
----------------------
Q: Why buy an Irish Draught Sport Horse (IDSH) not an Off the Track Thoroughbred?
A: In a word: BREED. Your off the track thoroughbred is produced to run very fast at a young age. The IDSH, on the other hand, is bred for brains and jump and trainable temperament!
-----------------------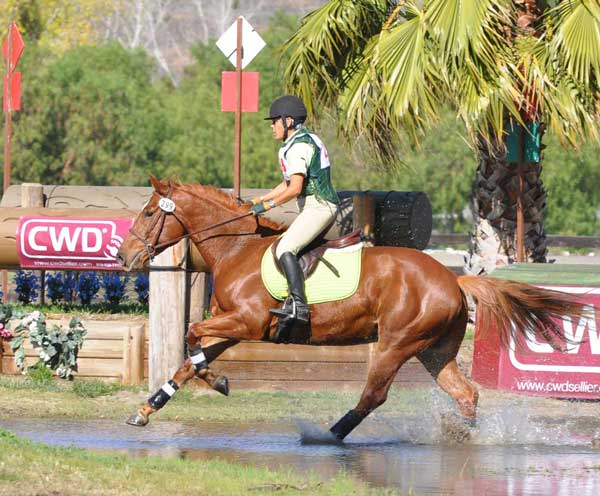 Q: I am an older rider and am cautious. Why should I consider a horse from Kleary Field?
A: The ID and IDSH breed are amazingly calm and forgiving. While not every horse bred by Kleary Field would be appropriate for every rider, we know our horses very well and can make a recommendation for suitability. As a breed, the ID has been bred for sanity for years. The breed standard states, "It has an intelligent and gentle nature and is noted for its docility and common sense." Temperament is an integral part of the breed standard and, for us at Kleary Field, every bit as important as the physical characteristics of bone, substance and straight action.
A: Yes, you may. We are fortunate to have several RID mares with key bloodlines available for custom breeding your next performance Irish Sport Horse or purebred Irish Draught.
We are proud of our RID mare herd and the opportunities they present for breeding -- particularly for half-bred Irish Sport Horses. Some breeders say the mare makes up 60% of the foal and the stallion 40%. While genetically that's not true, the impact of a calm and sane mare on the newborn foal until weaning may well be the 10% those old breeders are talking about.
Contact us for more information on a custom breeding. Custom breedings are available at our discretion and will require a deposit.
A: Yes, you may.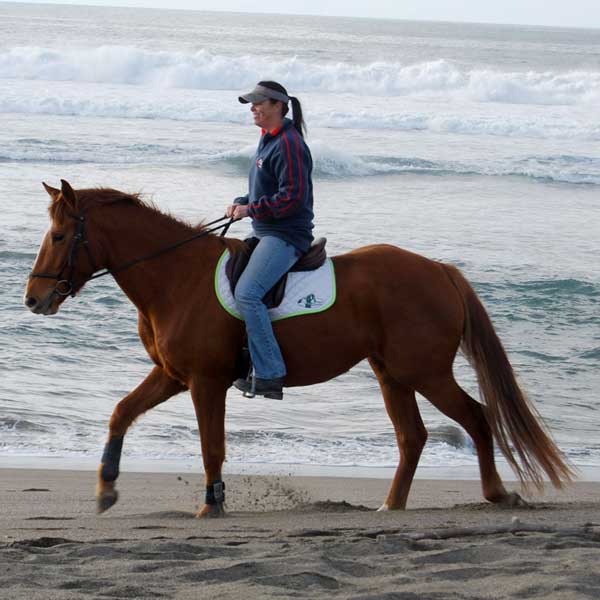 If you have seen the statistics on the number of weanlings thought to have ulcers, you may rightly be concerned about caring for young horses. Feeling safe and comfortable and responding positively to humans are two big priorities for all horses at Kleary Field, but especially the young ones. We handle each horse daily and individually to determine care, challenges and health needs.
We are fortunate to have large sloping pastures, age appropriate friends, bright stalls and paddocks, and a lovely arena with quality footing to keep the young horses safe and stimulated. Sure, we choose our breedings carefully with a focus on producing a performance horse with a appropriate temperament, but we also sincerely believe proper upbringing plays a vital role in a horse's future success.
Arrangements can be made for us to keep your Kleary Field-bred young horse by the month or year at a reasonable cost. We are happy to recommend and/or oversee starting for your young horse as well, until you are ready to take her or him home.